Walks in Robin Hood's Yorkshire
Books written and illustrated by Richard Bell

Willow Island Home Page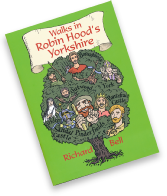 FOLLOW IN the footsteps of 'the Yorkshire Robin Hood' in these six circular walks and two short town trails.
Robin Hood is famous for his skirmishes with the Sheriff of Nottingham in Sherwood Forest but if you go back to the earliest ballads you find that the trail leads to Barnsdale Forest, 50 miles north of Nottingham.
How did Robin become an outlaw? Where did his rivalry with the Sheriff begin?
32 pages, full colour, picture maps, watercolours, photographs and pen and ink drawing of the locations, 10 pages of historical comic strips putting the events of the ballads into a historical context. Size 245mm x 172mm (9.7 x 6.8 inches)
ISBN 978-1-902467-19-1

Robin Hood locations
In Walks in Robin Hood's Yorkshire, I followed the path of one man's life, as it has come down to us through ballads and the historical record, by walking the actual locations. Not much remains on the ground from the period, apart from a medieval church, a chantry chapel on a bridge and the ruins of castles and abbeys, but the topography hasn't changed - rivers, higher ground, towns and the Great North Road are in the same relative positions.
If you walk the eight trails in this booklet you'll appreciate the strong influence of the shape of the land on the specific locations described in the ballads and the chronicles. You'll see why the outcome of a battle between the king and the rebel barons hinged on a river crossing, why a particular rocky outcrop should have been described as an outlaws' look-out post, how the Out Wood and four deer parks provided the setting for medieval Wakefield (home of the historical Robert Hode) and why a rocky bluff overlooking Pontefract was chosen as the stronghold of the most powerful baron in the land.
Post free in the U.K. Please let me know if you would like me to send a copy further afield.