Grandma's Guides
Books written and illustrated by Richard Bell

Willow Island Home Page
All Sorts of Walks in Liquorice Country
Walks in Robin Hood's Yorkshire
Walks in the Rhubarb Triangle
Drawing on Reserves
High Peak Drifter
Rough Patch
Walks around Newmillerdam
Walks around Horbury
Yorkshire Rock
Around Yorkshire (7 titles)
Sketchbook Sushi (6 titles)
Grandma's Guides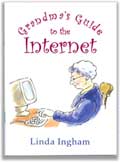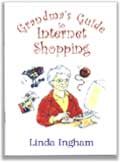 ' . . . jargon-busting . . . '
Active Life
' . . . full of gems . . . '
The Guardian
'So easy for Granny to surf the net'
Sunday Post
60,000 copies
sold!
With the help of my grandson Simon, I've put together this simple guide to get you started sending e-mail and surfing the World Wide Web (or paddling in it, at least).
Simon says; we've used Internet Explorer, which is available free from Microsoft.
36 pages
Size: A6 14.3 x 10.3 cm
38 black and white cartoons by Richard Bell
ISBN 1-902467-07-8

Simon Says: Here's the original guide for the complete newcomer to the Internet, written for a real granny who started surfing the net aged 83. If you find doorstop-size books like the Rough Guide to the Internet too intimidating at 380 pages (excellent though they are), this tried and tested classic from nearly a decade ago might give you helping hand to get started. The Internet has moved on but the basics of sending an e-mail, surfing the net and taking your virtual trolley on an online supermarket shop remain much the same.
'It's the pocket-sized sequel to Grandma's Guide to the Internet, which came out last year, and shows older on-liners how to order groceries, pick up a present, donate to a charity or track down a bargain, all from the comfort of their computer console.
Steven Bowron, Sunday Post, 12/08/01
32 pages
Size: A6 14.7 x 10.6 cm
black and white cartoons by Richard Bell
ISBN 1-902467-08-6