Walks in the Rhubarb Triangle
Books written and illustrated by Richard Bell

Willow Island Home Page
All Sorts of Walks in Liquorice Country
Walks in Robin Hood's Yorkshire
Walks in the Rhubarb Triangle
Drawing on Reserves
High Peak Drifter
Rough Patch
Walks around Newmillerdam
Walks around Horbury
Yorkshire Rock
Around Yorkshire (7 titles)
Sketchbook Sushi (6 titles)
Grandma's Guides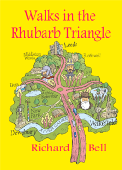 These 9 circular walks give you a taste of part of the famous Rhubarb Triangle between Wakefield, Leeds and Bradford. They range from 1½ to 6 miles.
32 pages, full colour, picture maps, 120 watercolour illustrations, historical comic strips and three delicious rhubarb recipes by Barbara Bell. Size 245mm x 172mm (9.7 x 6.8 inches)
LOCAL AUTHOR Richard Bell has a new book of nine walks, all of which are in the rhubarb triangle with a number of rhubarb recipes.
Launched at this year's February Rhubarb Festival in Wakefield, Walks in the Rhubarb Triangle contains nine local walks, all illustrated in colour along with several family favourite rhubarb recipes from Richard's wife.
Richard states: "I first heard about the rhubarb triangle when I was a student so I included rhubarb in my first book, A Natural History of Wakefield in 1978.
"My new book is different to the others I've written as it is very colourful and includes picture maps and points of interest in pen and ink and watercolours. It also includes delicious recipes from my wife Barbara for rhubarb bread and butter pudding, rhubarb cheesecake and rhubarb triangles, which are a type of flapjack."
Ossett & Horbury Review
March 2009
"This beautifully illustrated book, costing just £2.99, gives an insight into the area which has become known as the Rhubarb Triangle.
Nine circular walks give both the reader and the walker a taste of the famous triangle situated between Wakefield, Leeds and Bradford. The walks range from one-and-a-half to six miles and take in local villages, historical landmarks, reservoirs and much more.
Author Richard Bell hopes that the book's collection of walks, stories and recipes will all help the reader to discover more about the hidden countryside of the triangle.
This fascinating little book is a great read and contains some little known facts about place names, the local area, rhubarb and much more. It's also a great incentive to get your walking boots out and discover the Rhubarb Triangle for yourself. I never knew rhubarb was so fascinating!"
Around Town, Summer 2009
Third edition with minor revisions