Walks around Horbury
Books written and illustrated by Richard Bell

Willow Island Home Page
All Sorts of Walks in Liquorice Country
Walks in Robin Hood's Yorkshire
Walks in the Rhubarb Triangle
Drawing on Reserves
High Peak Drifter
Rough Patch
Walks around Newmillerdam
Walks around Horbury
Yorkshire Rock
Around Yorkshire (7 titles)
Sketchbook Sushi (6 titles)
Grandma's Guides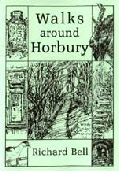 From the Figure of Three Locks to the ABC Steps, from Hartley Bank oak-wood to the rolling green spaces of what was once Roundwood Colliery spoil heap, these five circular walks include riverside, lagoons, old quarries, a heathy hillside, a tunnel or two and the old ginnels that give the town its character. They can each be completed in about 2 hours.
ISBN: None
Publication: 2007
Author: Richard Bell
Size: 210mm x 150mm
Pages: 28pp; b & w drawings and maps
Binding: Paperback
Price: £2.50 (includes 55 pence towards postage).
in the U.K. but please let me know if you would like me to send a copy further afield.